The Firm
For more than 60 years, Wells Design has been decorating and designing some of the most beautiful homes in Houston and beyond. Herbert Wells, the firm's founder, was known for his legendary command of color and his effortless ability to mix old with new in ways that were stylish, fresh and unpretentious. In the 1980's, Jerry Jeanmard joined the firm after a successful career as a graphic artist and illustrator. Together Herbert and Jerry continued to create homes that were both comfortable and elegant, timeless and modern. In 1999, Jerry assumed control of Wells Design with Herbert contributing as design consultant and mentor. In 2015, in keeping with the firm's legacy of mentorship, Jerry partnered with former client Lauren Hudson to ensure the continuation of Wells Design through the 21st century.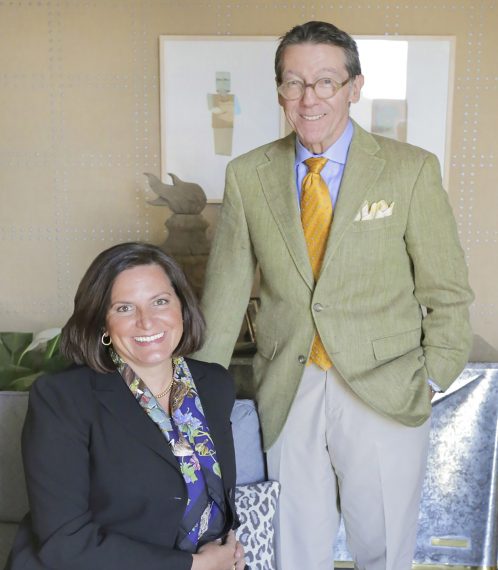 Jerry Jeanmard
Born and raised in Louisiana, his career path took him to New York and then to Houston, where he was a successful graphic designer and illustrator. In 1984, he switched careers and had the great good fortune to work under Herbert Wells at Wells Design. Mentorship turned into collaboration, and together they worked on major residential projects in Houston, Santa Fe, Colorado and both coasts, as well as Houston Country Club, River Oaks Country Club and the renovation of the Rice University President's House. In 2001, the firm became Wells Design/Jerry Jeanmard. In addition to his interior design work, he has returned to graphic design, creating collages that are handled through Moody Gallery in Houston. Paper People, a book of his figurative collages, was published in 2014.
Lauren Hudson
Originally a client of Wells Design, Lauren began working with Jerry Jeanmard after several years spent designing her own home with him. The working relationship grew organically as several potential clients approached Lauren for assistance with their homes and Lauren brought in Jerry for collaboration. As clients came aboard, Lauren and Jerry partnered together with Lauren continually learning the trade from Jerry in the same spirit of mentorship begun by Herbert Wells. Prior to settling in at Wells Design, Lauren spent time in the recruiting and human resources fields and also in the classroom as a teacher. Lauren finds joy in her kitchen, cooking meals for her family and friends and entertaining in the home that led her to Wells Design.
A Legacy of Design : Herbert Wells
A New England native, Herbert Wells moved to Houston in the mid-fifties, setting up, with his mother and brother, the first Wells Design in their home on Mount Vernon Street. Soon he was providing many of Houston's most prominent families with the inimitable style that was to make him a design legend. A modernist at heart, he introduced to the area manufacturers and innovators heretofore unknown to the region through his unforgettable design emporiums. In 2008, he was selected as the first recipient of the Lifetime Achievement award by Decorative Center Houston. He remained active in the business until shortly before his death, leaving his signature light touch on the homes of clients who had long since become devoted friends.